OOSH Update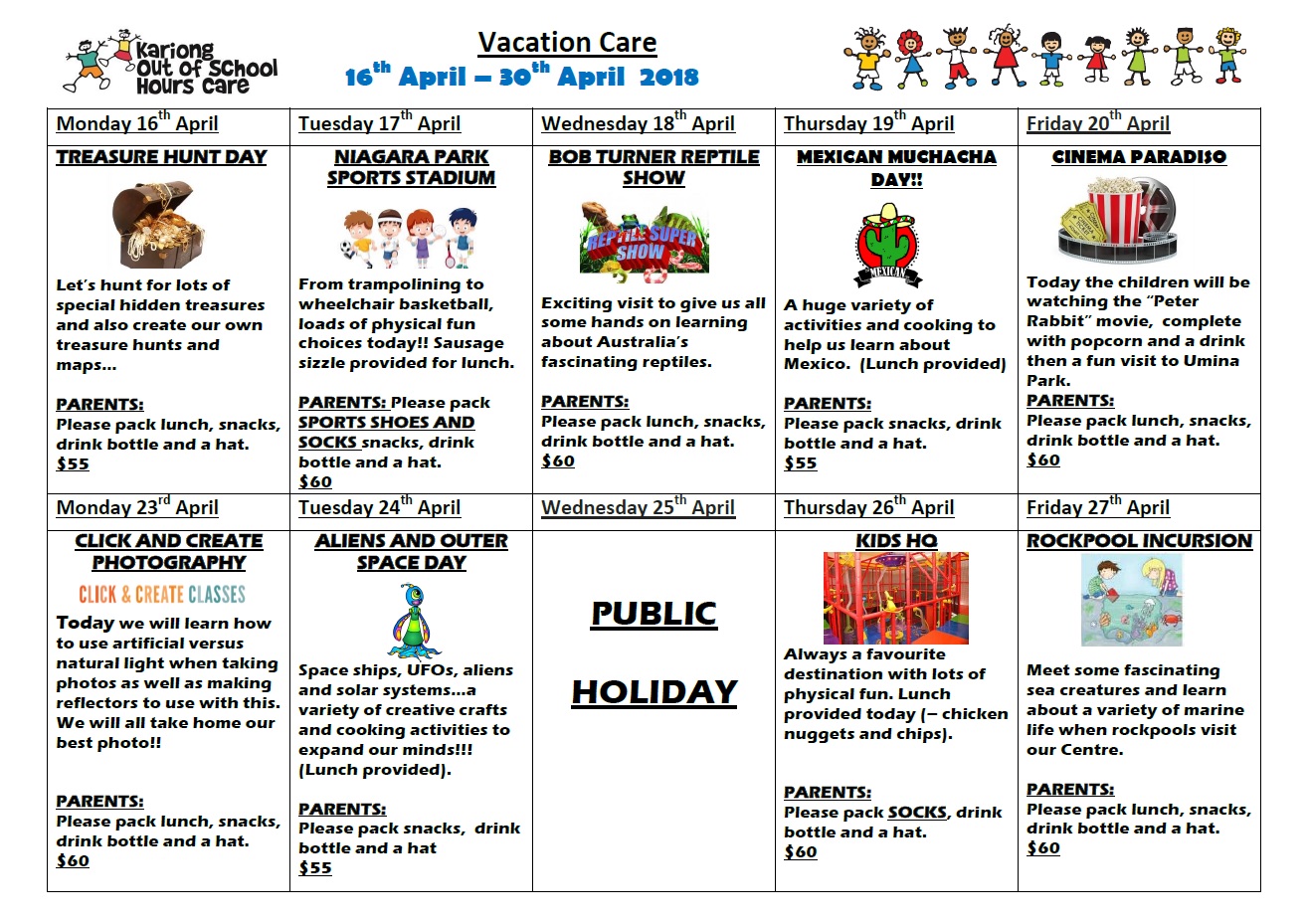 1st March 2018
The OOSH children have been enjoying a wide range of activities this week including  learning film-making and acting, a focus on recycling and sustainability through craft activities and also using lots of interesting resources from our local visiting Multicultural Van.
Our afternoon tea menus have delighted the children with their favourites being San Choy Bau and Cheese and Zucchini Slice.
The Kariong & Beyond Connection
Term 1 has been a very busy time with our new children settling into our before and after school routines.
Our senior children have been very active with mentoring and assisting the Kindy children and helping them develop their sense of belonging in our centre.
Our Monday afternoon workshops are progressing well with the focus on teaching drama and film-making skills to the children.  The  workshops are a lead up to a weekend of filming to create a DVD that explores building resilience and assertiveness for children in a variety of challenging social settings.
We are very sad to farewell our coordinator, Brandi and wish her the very best of success in her future endeavors.
We would like our families to share their best and favourite ideas for our menu – dishes we can prepare for afternoon tea for all our hungry children!!   We also welcome ideas for our Vacation Care program  – please feel free to let us know what activities and excursions  your children will enjoy the most.
ACTIVE PLAYGROUP Update
Our Wednesday playgroup looks forward to welcoming many new faces into our midst this year. Our weekly group runs from 10.30am – 12.30pm and provides a friendly, happy and supportive environment for parents and children to come along and connect with other families in our local area. The children have the opportunity to participate in turn-taking games, art , craft and messy play experiences as well as structured music and story times together. The variety of activities we offer helps the children  to develop skills important for school readiness along with promoting their self esteem and self confidence in social situations.
Our fantastic outdoor play area includes challenging climbing equipment  and  a giant sandpit, promoting lots of physical play and exploration. Please join us for a shared morning tea and discover new  local friendships!