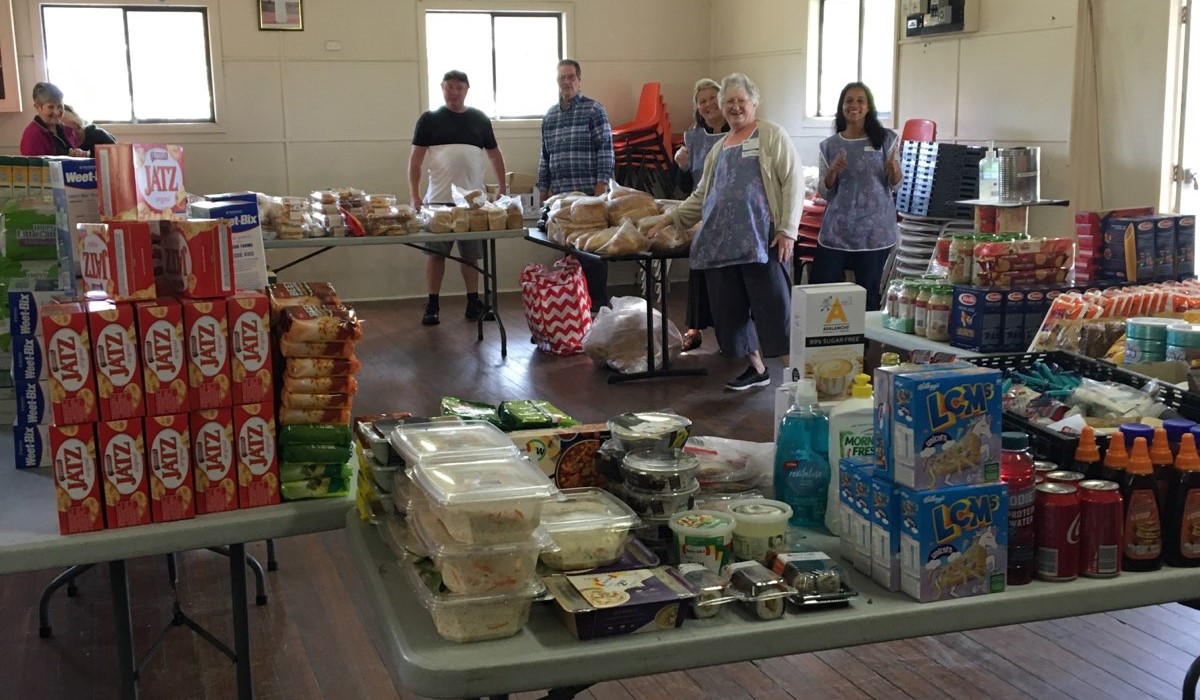 SHARING THE LOVE
Kariong Neighbourhood Centre is sharing and spreading the love with their food relief program, which will be starting up at Somersby Hall starting on Friday June 4, 2.00-3.00pm.
General Manager Shayne Silvers stated "no one should ever have to make the choice between whether they eat well or pay this month's rent or mortgage or pay for a child's medication, however the truth is, that any person or family can find themselves facing times of hardship and emergency through no fault of their own. Golly, we have seen the recent fires, floods and now a Pandemic. Loss of employment, social isolation, increase in domestic and family violence, mental health, anxiety and depression, have all been documented as some of those impacts on individuals and families."
"We have been running our food relief at our Kariong Neighbourhood Centre now for over a year and the numbers coming for assistance have grown. Visitors to our food relief program have been coming from further afield, the Peninsula and the Hinterland. We have around 10 wonderful, generous volunteers who help us on a Wednesday with our Kariong food relief program and one of the volunteers lives up in Somersby. She asked if we might extend the program up there to help out the Hinterland communities and she didn't have to ask us twice. I met with the Somersby Progress group and they offered the use of their local hall from where we can run the program. We are excited to be commencing on Friday. As the song goes, "we get by with a help from our friends".
Ms. Silvers concluded "My Mantra has always been if I can make a difference to one I have succeeded, but if I can make a difference to many I have won the lottery!"
Contact:  Shayne Silvers 0468 775 048. Email gm@knc.net.au
WELCOME
Kariong Neighbourhood Centre is a community hub for Kariong and surrounding areas in the Central Coast Hinterland. From the moment you walk through our doors you are welcomed into a safe and friendly atmosphere which promotes a sense of belonging.
We are only 5 minutes off the free way. We have wheelchair access throughout, disabled toilets, private parking for up to 16 cars and a bus service at the doorstep.
The Kariong Neighbourhood Centre is a great place to meet new people. Our groups include Active Playgroup, Pilates for Seniors, The Over 50s Friendship Group and Tai Chi.
We also offer First Aid Courses, Early Childhood Clinic and Immunisation Clinic, Indoor Bowls, "Be Connected" Program, Little Big School Program and Ukulele Lessons.
The Kariong Out of School Hours Care Service caters for children aged 4 – 13, providing care from 6:30am to the start of school and from 3:00pm until 6:30pm.
We also offer Vacation Care and care for pupil free days from the hours of 6:30am until 6:30pm.
Our Out Of School Hours service has achieved an overall rating of Meeting National Quality Standards (NQS).
WHAT'S ON
Information & Referral
Administration services
Justice of the Peace
No Interest Loan Scheme (NILS)
Work Development Order
Family Help Service
Free Family Law Clinic
Assisted Referral to someone.health
MONDAY
12pm – 1pm: Pilates for Seniors*
TUESDAY
8.30am – 5pm: Early Childhood Clinic
10.30am – 11.30am: Basic Preschool Ballet*
WEDNESDAY
9am – 10am: Tai Chi*
9am – 3pm: First Aid Training from Direction Health
10am – 3pm: Early Childhood Clinic
10.30am – 12.30pm: Mums and Bubs Group**
10.30am – 12.30pm: Active Playgroup*
2pm – 3pm: Food Relief Program
* During School Term only
** By Invitation
THURSDAY
9.15am – 11.45am: Grace Church*
9.30am – 2pm: Free Computer Classes for Seniors
FRIDAY
9.30am – 11.30am: Little Big School*
9.30am – 11.30am: Triple P
12.15pm – 2pm: The Over 50's Friendship Group*
SATURDAY
8.15am – 9.15am: Pilates for Fitness
Venue Hire for Events such as Birthday Party
SUNDAY
Venue Hire for Events such as Birthday Party