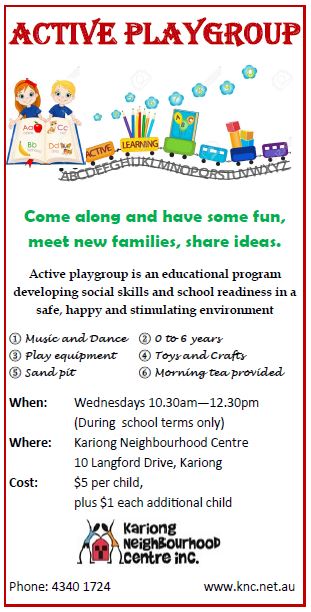 Our weekly playgroup has been welcoming lots of new faces from many cultures to its midst recently and has supported the growth of some wonderful friendships between families new to Kariong. Our relaxed and inclusive atmosphere makes it very easy to join in, chat with other locals and help the children develop many skills through our great range of activities.
Some lovely group craft experiences have helped our playgroup children learn about sharing and turn taking this term and everybody has also been developing lots of confidence and cooperative skills in our music group times with our singing and dancing.
Our fantastic outdoor play area includes challenging climbing equipment and a giant sandpit, promoting lots of physical play and exploration. Please join us for a shared morning tea and discover what else your local Neighbourhood Centre can offer you and your family.